I have now been in Tallinn for 2 weeks. I think time is starting to speed up for me and I'm already panicking that I have to make the most of every day. Tallinn is absolutely stunning right now, the days are still quite fresh, 5 - 10 degrees, but we continue to have cloudless day after cloudless day. The old town is getting busier with tourists as the weather warms up so I'm trying to take advantage of the relatively quiet streets and museums before the summer rush.

I visited the Estonian Museum of Applied Art and Design this morning and unfortunately I was unable to take photos. It's a shame because the collection has a quite a few very interesting pieces and there was a very good British design exhibition on with works by Danny Brown and Doshi Levien.which I really liked.

Danny Brown's exhibit 'Software as Furniture' consisted of blank ceramic tablewear and bedlinen which had patterns projected onto them from above. The patterns evolved and changed according to "random" selections by the software. It was quite beautiful. Doshi Levien are a design team of Nipa Doshi and Jonathan Levien. According to the catalogue, Nipa Doshi grew up in India and their work in the exhibition (a low table, a water cooler and an embroidered mattress) represents a blending of contemporary design with traditional Indian craftsmanship customs - and you gotta love that.

I bought a few catalogues from the museum shop to add to my collection, I'm gonna have to look into shipping rates to Australia as there'll be kilos of them by the end of this trip!

Anyway, after two weeks here are some things from my bench...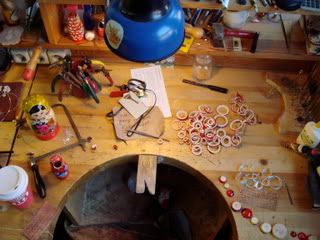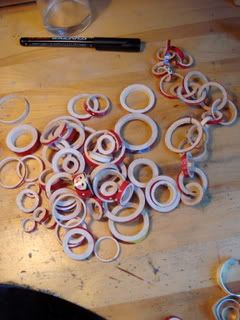 Matryoshka onion rings (thanks to the knitter for the spelling heads up)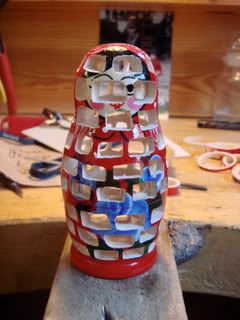 cobbled matryoshka





easter matryoshka





minnie matryoshka


and empty matryoshka...




which might have become...




koala matryoshka

but, instead will become...




brown bear matryoshka


Here's the ensemble...




which includes some traditional Estonian dolls (rather than Russian) that haven't yet worked out how they want to be Davernated. I've asked my fellow students whether I'm being culturally insensitive and it seems that the concept of cultural insensitivity isn't even a minor issue here (although someone did call me a 'monster' for removing the Estonian doll's head - but this was in jest. I think)

More next time.

.