Firstly, Garage Sailor has been updated. So, if you're interested in that sort of thing, head on over and check out my finds from the Russian market.

Secondly, Today I went to Kadriorg which is a big estate built by Peter the Great as a summer palace for his 'consort' Catherine. The Palace is now the museum of foreign art and and the estate also houses the fantastic new contemporary art museum.

In the palace I was fascinated by a children's party hosted by medieval wenches teaching medieval dancing (strange for an 18th Century palace)...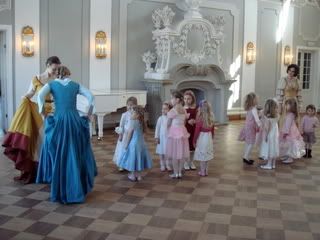 ...and by the beautiful stoves throughout the building.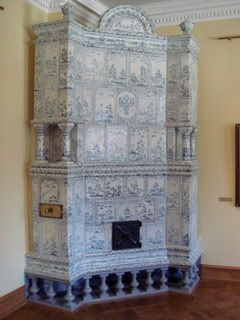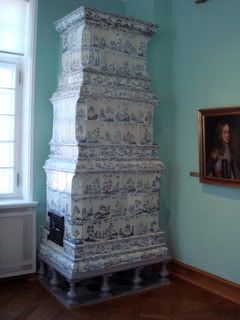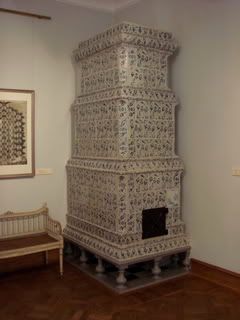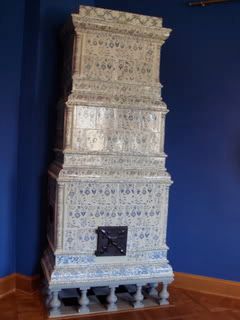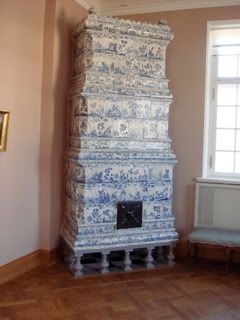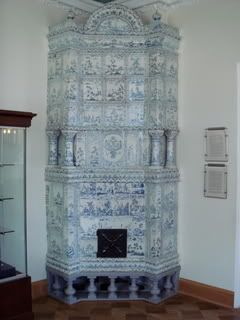 That last, less elaborate stove was in the cottage where Peter lived while the palace was being built but I think I liked it the best.


The new contemporary art museum, as I said, is fantastic. It was designed by a Finish architect and is a really stunning building, inside and out. I really enjoyed being in the spaces. It's designed like an arc, actually the whole complex is designed as a circle but the building housing the galleries is shaped like a thin slither or arc of a disc. Have a look here for a better picture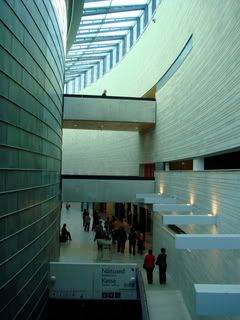 I only managed to see 2 of the 4 floors of art before I had to concede to coming again another day. All the works are by Estonian artists and I particularly enjoyed the collection from the Modern period. I guess I was expecting lots of 'soviet' art but the paintings (only painting and sculpture - applied art and design has it's own museum in the old town) were very refreshing and extremely moving.

The most amazing gallery was a room full of busts...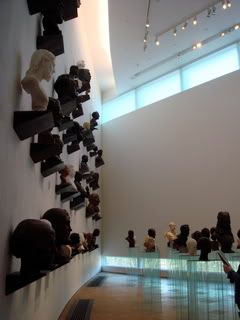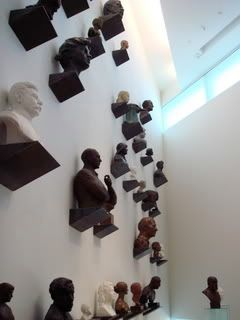 It's right at the point of the arc of the building so the room narrows to a sharp angle. The busts are stacked up the wall which is two storeys high and also sit on tall plinths in the middle of the room. From some of the busts on the wall comes the sound of recorded indistinct chatter. It's as if they are all conversing amongst themselves. Some of them are enormous and some of them quite small. And high up on the wall is the bust of a seagull.

Portraiture and busts are particularly powerful in Estonia as it has been subjected to foreign rule for most of it's civilisation. The foreign rulers (be they tsars or generals) required that busts or portraits of themselves be displayed in every public building, as a reminder to the inhabitants as to where their loyalties should lie.

Anyway, I didn't want to leave the room, it really felt like all those people were there.

More another time...