Hello from Tallinn,
It's pretty cold here. No colder than a Melbourne winter, except that this is spring. I'm writing this from the jewellery workshop at the academy...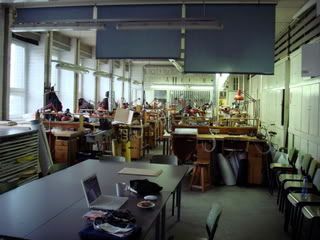 There is free wireless internet throughout the academy which makes up for no internet in my apartment! This is my bench...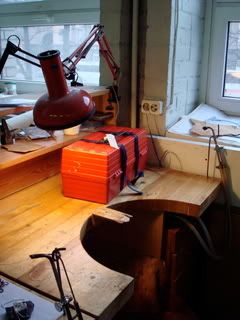 a bit smaller that I am used to heh?

At the moment I'm preparing for my four week teaching block. I am going to run a project for the 3rd years on 'foreignness'. We'll be looking at the strange AND the familiar, and the foreign object and the body. I'll let you know how it progresses and post images of the student's work, if they don't mind. There are only 4 or 5 students in the class and 2 are not from Estonia. It will be fantastic having so few students so be able to really focus on them individually.

Here are some gratuitous photos of Tallinn street scenes...




The tourist cultural focus is on Tallinn's medieval history. It is one of the best preserved medieval cities in Europe having escaped widespread bombing in the second world war. So far, I have only been exposed to the tourist end of the craft market but I'm looking forward to delving deeper.

Tourism and the kitsch souvenir are favourite subjects of mine. It's interesting to note the difference in souvenir subject matter between here and Australia. Here the focus is on ethnography and architectural history, while in Australia it is on landscape and biological difference (flora and fauna) Of course, the culture and customs of Australia's indigenous peoples are featured in souvenirs but the indication is of the other or the exotic.

Hmmm much fodder for contemplation.