So I've finished my first week of teaching and I'm really impressed by some of the things that are already coming off their benches. I set them practical exercises in idea development this week and they're getting excited, as am I. Here's the group...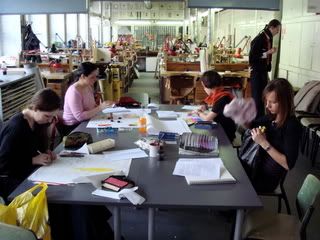 These are the four students working around the group table from left to right Katrin (from Estonia and the a is supposed to have 2 dots over it), Antje (from Idar-Oberstein, Germany), Xana (from Portugal) and Kertu (from Estonia)


This is Risto...




He is the all knowing most excellent technical guy for the studio. He is also studying for his masters in blacksmithing and I want to take him home.

This is Tonis (again funny things above the first vowel) he sits at the bench behind me.





And this is my bench at the end of week one.




cheers,

.