I spent the day walking around areas that I hadn't yet visited. I started off by doing the Lonely Planet's "beauty in decay" walking tour which took me past this Soviet apartment block




with concrete cancer!


A lot of the old palaces which according to the guidebook should have been rotting away were covered in scaffolding, probably being turned into fancy apartments for the new wealthy. But here are some of the views I came across...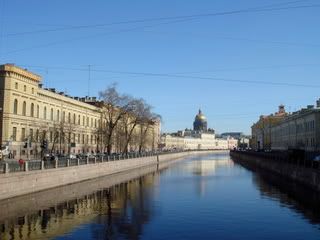 view of St Isaac's cathedral from a canal





New Holland island, the public have never been allowed there except for one 'art event' a few years ago. They apparently used to conduct secret naval experiments there but it's completely desolate now.





canal view.


So it's back to the studio for the next two weeks and then I'm off to visit mum and dad Davernator in Rome. I'll also pop into Alternatives gallery and try and get to Le Arti Orofe in Lucca. And possibly also Marijke Studio in Padova (although it's a long train journey from Rome to Padova).

'til next time, Anna

.